This Book Just Ate My Dog!
February 27, 2018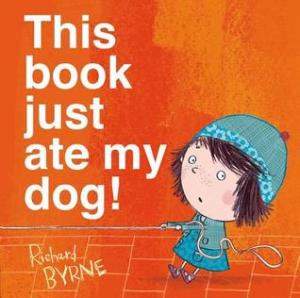 Review:
When I saw the end note of this saying that the writer and illustrator had worked in graphic design, suddenly everything made sense. It's a strange, meta book. Characters and vehicles keep disappearing into the gutter of the book. Eventually, a note comes out of it instructing the reader to turn the book sideways and shake it. Then everybody and everything that went into the gutter falls out horizontally. Afterward, all of the characters and text on the right half of each spread (the right-side pages) are upside down. Not the background, just the characters and text. Then the reader is instructed to tell the book to promise not to be so naughty next time it is read.
It's weird. It's silly. It's got one gimmick to it, and it does it well, but it's still just one gimmick.
Number of Words on Typical Page