October 10, 2016
The alphabet is everywhere.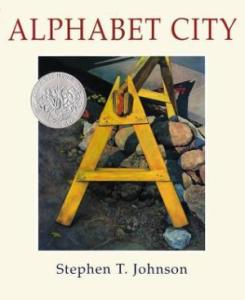 No words, just a bunch of photorealistic paintings of various structures, usually architectural, like bridges, pipes and lamps, outside in a city that are shaped like letters of the alphabet. It's kind of a game of finding the letters of the alphabet in man-made objects around a big city.
It's interesting, but not enough to look at more than once, as with many alphabet books. There's nothing further to it. There's no depth, there's no story. There's no words, so there's nothing to read to a child, and there's nothing to really think about after having read it.
Number of words on a typical page
0
Amazon Link
https://www.amazon.com/Alphabet-City-Stephen-T-Johnson/dp/0140559043
Goodreads Link
https://www.goodreads.com/book/show/1300700.Alphabet_City