Not a useful dog or book.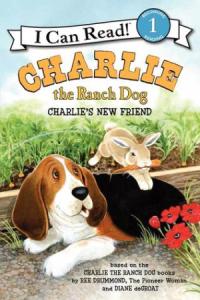 It's kind of inane. I'm not that impressed by the storyline. The pictures are cute, but not that interesting. It's more words than it needs to be to tell a really basic story, and it doesn't say anything. The story doesn't have a point to it.
Charlie wakes up and sees a rabbit stealing carrots from the ranch. He chases the rabbit, then tries to lure the rabbit with a carrot. Then he offers to share the carrot with the rabbit in exchange for the rabbit not taking things without asking, but when he eats some of the carrot he decides he doesn't like carrots and prefers bacon. The end.
Number of words on a typical page
26
Amazon Link
https://www.amazon.com/Charlie-Ranch-Dog-Charlies-Friend/dp/0062219146
Goodreads Link
https://www.goodreads.com/book/show/18085483-charlie-the-ranch-dog