October 10, 2016
Lackluster poems for every month.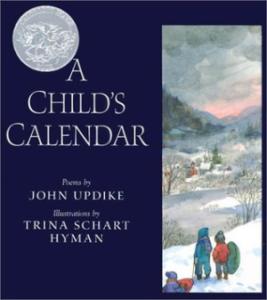 It's not badly written. The poetry is well-metered and rhymed. It's just twelve poems, one for each month, kind of how a child would see it, I guess. It's a little bit dated, being written in the 1960s. There's a few gender stereotypes, like "The blushing, girlish/World unfolds". I'm not sure what's "girlish" about nature. Later, "And Daddy may/Get out his hoe/To plant tomatoes/In a row,/And, afterwards,/May lazily/Look at some baseball/On TV."
It's pretty stereotypical. Very American, with the Fourth of July, baseball, Halloween, Thanksgiving, and the obsession with Christmas in December. There's not really much to it, with no storyline or message.
Number of words on a typical page
51
Amazon Link
https://www.amazon.com/Childs-Calendar-John-Updike/dp/0823417662
Goodreads Link
https://www.goodreads.com/book/show/235846.A_Child_s_Calendar