Catch fish. Eat fish. Repeat.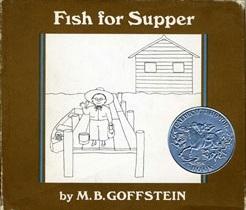 Really short book with very few words. Pretty boring. It's only a few sentences spread out over all the pages.
My grandmother went fishing. She did X, Y, Z, and then at the end she went to bed so she could get up to go fishing the next day.
It's descriptive. The pictures are all line drawings, very simple, with not a lot of detail. There's also not a lot of detail in the story. Nothing's happening, really, except the day of a woman fishing, making herself food and then eating. That's it. This woman's life is very boring. She doesn't do anything, and she doesn't have any family or see anybody else. She just goes out and fishes.
Number of words on a typical page
8
Amazon Link
https://www.amazon.com/Fish-Supper-M-B-Goffstein/dp/0803702841
Goodreads Link
https://www.goodreads.com/book/show/2133502.Fish_for_Supper