October 7, 2016
Mundane walk through the forest with fanciful animals.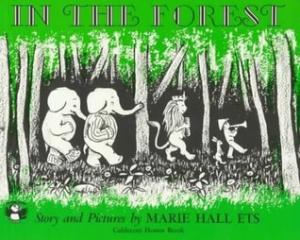 It's kind of boring. It's kind of a dated style of book.
A little boy is going for a walk in the forest, which it says repeatedly, and meets various animals who all join him on his walk. He kind of has a parade and they play games. They play hide and seek, and as all the animals are hiding, his dad appears and then he has to go.
There's no real message. It doesn't really go anywhere. The animals don't really do anything. There aren't any characters. Nobody really has a personality. It's just descriptive, and pretty boring. No moral.
Number of words on a typical page
16
Amazon Link
https://www.amazon.com/Forest-Pictures-Marie-Hall-Ets/dp/0606035923
Goodreads Link
https://www.goodreads.com/book/show/630745.In_the_Forest