Good message, poor execution.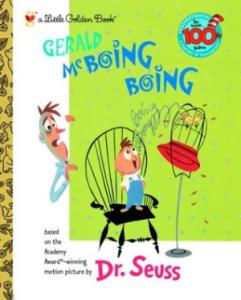 Meh. It has a lot of good onomatopoeia in it. I want to like this book, because it has a good message, but I can't get past the way the parents implicitly treat Gerald. The message is basically that everybody has their own niche, but in order to get there his parents more or less disown him, which is ridiculous. They accept him at the end, but it seems like it's only because he has money, or because he found the place where he fit. It ends up not being terribly good or terribly bad. The pictures aren't done in a Dr. Seuss style, but more like a cel-shaded 1950s cartoon.
Instead of speaking words, a small boy starts making sound effects. People make fun of him. He runs away from home. It's implied that his parents don't want him anymore. As he's about to get on a train and disappear, a man who owns a radio station finds him and he becomes a foley artist. Clearly, that's not something kids can quite identify with nowadays, but the idea is still there.
Number of words on a typical page
18
Amazon Link
https://www.amazon.com/Gerald-McBoing-Boing-Little-Golden/dp/0375827218
Goodreads Link
https://www.goodreads.com/book/show/273762.Gerald_McBoing_Boing