Just Me
November 16, 2017
Subheader:
Nobody here but us chickens.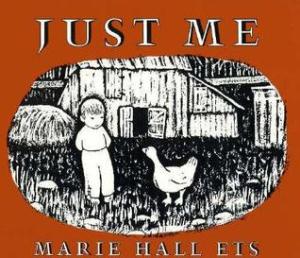 Review:
It's not a bad book, given the age. It's rather simplistic and repetitive. The art is not impressive.
A little boy who looks maybe about 4 or 5 is looking at different animals and trying to physically imitate their behaviors. He tries to walk like a rooster, or hop like a rabbit. Every time you turn the page, it's another animal that he's trying to imitate. At the end, he ends up going through a corn field and he sees his father in the pond in a boat, and runs "Like nobody else at all. Just me." Meh. I guess it's cute, but there's really nothing to it. It's pretty dull.
Number of Words on Typical Page