June 29, 2018
Not sure how this book kicked off a series. Not enough to read in 1939?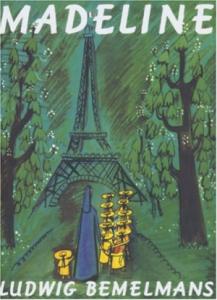 It feels too long. It just goes on and on about unimportant things. There are twelve girls in a boarding school in France. The woman in charge, Miss Clavel, dresses like a nun for some reason (wouldn't she be "Sister Clavel" or "Mother Clavel" if she were a nun?). The smallest of the 12 girls is named Madeline. She's brave but a little foolhardy (which is irrelevant to the story, but the book feels it necessary to tell us this). One night she's in bed crying. Miss Clavel calls the doctor. Madeline has appendicitis. She's in in the hospital for like 10 days. The other eleven girls go and visit her, where they see "the toys and candy and the dollhouse from Papa" (the only way I could tell she wasn't an orphan). She has a scar. Then the other girls go home, and then they're all crying in bed because they all want to have their appendixes out also. Miss Clavel says, "Good night, little girls! Thank the lord you are well! And now go to sleep!"
I feel like like I could draw this well. The art is very stylized, as if the artist just really roughly sketched things and wasn't interested in making things look realistic in any way, shape, or form. It uses far too many words to tell a fairly uninteresting story. Madeline gets appendicitis. Or, a little longer: A brave little girl named Madeline who is in boarding house with 11 other girls gets appendicitis, and the other kids are jealous. That's it. Literally nothing else happens in this book. It does not need to go on this long. It's not terrible at rhyming and the meter is okay, but it changes the rhyme scheme all over the place. Quatrains, couplets, and triplets are just thrown about with abandon. And is he trying to rhyme "Papa" with "car" and "star"?
It's more annoying than anything else. It doesn't do anything for me. It's not imparting any knowledge to me. It's not interesting. It's just fairly mediocre, and the art is not very well done in my opinion.
Number of words on a typical page
10
Amazon Link
https://www.amazon.com/Madeline-Ludwig-Bemelmans/dp/014056439X
Goodreads Link
https://www.goodreads.com/book/show/475339.Madeline