"More More More," Said the Baby: Three Love Stories
October 10, 2016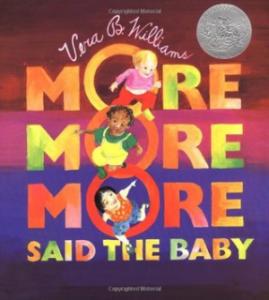 It's pretty repetitive. I think it would annoy me to read to my children.
There's no real message, just a bunch of kids running and playing chase with their caregivers, and the caregiver "catches them up" and gives them physical affection and the children appreciate it and request more. That's it.
It's very obviously ethnically and familially diverse. There's a white little boy and his dad, a black androgynous child with a white grandmother, and an Asian little girl and her Asian mother. That's it. The multiculturalism is almost Caldecott-bait. It's like it was specifically written to appeal to givers of children's book awards. It's not a bad message, actually, probably not a message at all. Not bad, but not very interesting.
Number of words on a typical page
16
Amazon Link
https://www.amazon.com/More-Said-Baby-Caldecott-Honor/dp/0688147364
Goodreads Link
https://www.goodreads.com/book/show/220396.More_More_More_Said_the_Baby