If girls can wear pants, boys can wear dresses.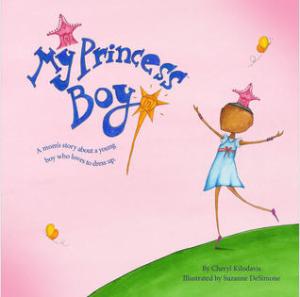 Another book with a great concept, but lacking in execution. I love that this book exists. It's definitely not a bad book. I just feel like they could have done so much more with this.
This is basically a nonfiction book, even though it's marketed more as fiction. The author discusses her son, who likes to dress up in dresses, and who loves the color pink. He plays with his friends, and people laugh at him and his mother when they go shopping. He goes trick-or-treating on Halloween as a princess, and a woman laughs at him. The mother says, "Some people don't think boys should wear dresses." The narrator and mother continues, saying, I'm not going to laugh at princess boys. I will play with them. It's very explicit in its message, and maybe some people need that at this point. But I'm not sure I do, or my kids do. I bought my four-year-old son a tutu when I realized nobody was buying him traditional "girl" toys. He wears it sometimes, calling it his "floofy dress." He's even worn it to preschool, where he basically said that the other kids didn't make a big deal about it.
Clearly we've come a long way. And I'm lucky to live in a place where it is no big deal. There are definitely places where he would face a lot of discrimination for such an action, even in preschool. It would have been a bigger deal even ten years ago where we live, and I know books like this are part of the change in the culture. I don't know if they're part of the cause or part of the effect.
The message is great, but it's kind of preachy. Maybe it's an anvil that needs to be dropped, a la TV Tropes. But I don't see this book as being useful to me, since my son basically says that boys and girls can wear whatever, although sometimes he does say that he's a girl because he's wearing a dress. But that's perfectly okay with me.
This book is nine years old, so more than twice the age of my child. I have a feeling that it was a lot more important when it was published than it is now. I would like to see more books like this, but I definitely think it could be improved upon. I think nowadays we can do better than this in our children's literature. But again, it's not bad. It's really tough to make the call on this, since we need it because there aren't a lot of books out there that talk about this subject. But we can definitely do better than this.
Number of words on a typical page
20
Amazon Link
https://www.amazon.com/My-Princess-Boy-Cheryl-Kilodavis/dp/1442429887
Goodreads Link
https://www.goodreads.com/book/show/9436049-my-princess-boy