Boring book about a weird tractor.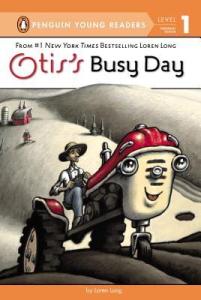 This is a boring book. I guess it's good for kids who like tractors. It's really basic, which makes it easy to read to a small child. The sentences are very simplistic. The art is in a very strange style. There is a personified tractor with eyes and a mouth that does things that tractors aren't actually able to do like dancing and singing.
The anthropomorphic tractor goes through his day. He does some activities in very simple words. He gives a dog a ride. He goes home. He goes to sleep. The end.
Number of words on a typical page
4
Amazon Link
https://www.amazon.com/Otiss-Busy-Day-Loren-Long/dp/0448481308
Goodreads Link
https://www.goodreads.com/book/show/18668052-otis-s-busy-day