Don't angels make people freak out?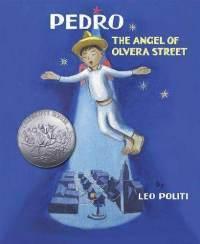 This author writes a lot of relatively religious books. This is the story of a little boy named Pedro who lives on Olvera Street in Los Angeles. The book discusses the Mexican culture in Los Angeles and different things that they do, and then talks about how they celebrate Christmas. There's a pinata, and something called a posada, which is a procession of people who pass through the city streets every night starting on December 16th and going every night until Christmas Eve. They bring a nativity scene with them, and they all sing about asking for shelter, and every night every door they ask at denies them shelter, until Christmas Eve. On Christmas Eve, there's a piñata and they break it open and there's toys. The end.
There are a couple of songs, including the scores, in the book. There's a lot of Spanish, including all the lyrics to the songs (although they are translated into English as well). Pedro "sings like an angel" so somebody makes him little red angel wings and he leads the posada, hence the title. It teaches a bit about the culture and holidays of Mexican Americans in Los Angeles, but I imagine it's rather outdated. I wonder what Olvera Street is like nowadays, almost 75 years later.
Number of words on a typical page
100
Amazon Link
https://www.amazon.com/Pedro-Olvera-Street-Leo-Politi/dp/0892369906
Goodreads Link
https://www.goodreads.com/book/show/59580.Pedro_The_Angel_Of_Olvera_Street