October 7, 2016
Odd imaginative journey to the ocean.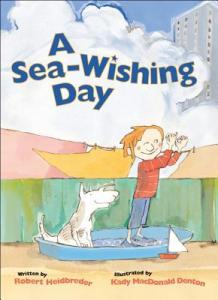 Kinda weird. It kind of reminds me of Harold and the Purple Crayon in a way. A small, androgynous-looking child and his or her dog that kind of looks like a goat imagine taking a journey in a ship, sailing on the ocean. They run into foul weather, sea monsters, pirates, porpoises, mermaids, and then come back home to their back yard again. It states that "the sea's near/when you want it to be."
It's kind of weird. I've known kids to be into animals and possibly boats, but being into the ocean itself is kind of strange. The pictures are okay, I guess. They're kind of idiosyncratic.
Number of words on a typical page
18
Amazon Link
https://www.amazon.com/Sea-Wishing-Day-Robert-Heidbreder/dp/1553377079
Goodreads Link
https://www.goodreads.com/book/show/1677552.A_Sea_Wishing_Day