Welcome: A Mo Willems Guide for New Arrivals
December 2, 2018
Tries too hard to be funny, and doesn't quite deliver.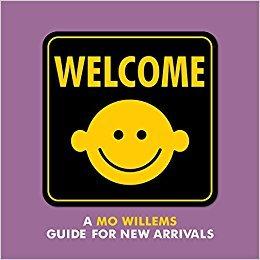 It's cute. It's kind of this weird thickness-- at first I thought it was a board book, but it's not. It just has a really thick cover because it's got a mirror inside both the front and back of the book. The pages inside are like card stock instead.
It's clearly aimed at a parent who is reading the book to a baby who is pre-verbal. It's kind of an unusual audience, although I guess I've said we need more books that take the parent into account. But it's a weird perspective. It's meant to be what a parent should say to their child who can't understand what they're saying anyway, so why not try to make it funny, I guess? It addresses the child as if it is the parent/reader talking. Not really an unusual narrative device (see books like "On The Night You Were Born", for example). Nearly every page ends with the phrase, "while we read this book together" paired with a little icon of an adult reading to a swaddled baby.
It seems to be parodying a pamphlet, of the kind you might receive when considering a big change such as a new medication or travel destination. It's got a lot of words in it, way more than most books for young children. But I guess a baby isn't going to get bored and wander off. It starts off talking about how the baby is finally here, and how they were wanted and worried over, and then lists activities the baby can do, such as "pooping and more pooping." It talks about music, with a weird little nonsense song in there, including a musical staff. It talks about cats, oddly enough. It mentions stories, including a colorless drawing of the pigeon from Mo Willems's more well-known book series. It talks about bad things, like pain, sadness, and "ice cream disasters." It reassures the baby that the parent is there to help them. There's a weird page which says, "Your login code" and has a bunch of empty boxes in it, but says on the opposite page that the baby doesn't need to know any login codes yet. I'm not sure why Willems left that in, since it seems rather out of place and not very interesting or funny. Almost like it's an inside joke.
Then it gets sappy (sappier?) and tells the baby that while the parent teaches the baby things, the baby is teaching the parent things, like "stop" and "be". Gag me.
The whole book seems like it's pandering. Like Willems is just trying too hard to reach a target audience by saying things he thinks they want to hear, instead of things they would actually find worth reading. It definitely has funny, relatable moments, like the "pooping and more pooping" thing, as well as one of the last pages, which says, "If you have any further questions do not hesitate to: call or flail about or scream like a banshee." Ha, babies. That is in fact what they do to get your attention.
The last page: "To recap: this is you. You are here. You are loved." With a mirror on the opposite side, so the baby can see the "this is you" part. It's cute and sweet, but there's not much to it. But it feels like it's drawing too much attention to what it is. 'I'm writing a book that's geared toward the parent instead of the child. Isn't this funny?' I've seen other books in the style of an instruction manual ("The Baby Owner's Manual" by Louis Borgenicht, MD is one), and similar books, but the concept is more interesting than the execution. Once you actually sit down and read it, it turns out more mundane than funny. Sometimes these kinds of books get patronizing (though I will say that Willems's book does not). Sometimes they are boring. They're almost always sappy and a bit maudlin, though, because the heartstrings of a new parent are right on the surface, ready to be tugged at.
I'm definitely in support of all books that try to take the parent into account. If this book entertains parents enough to want to read it to a pre-verbal child, I think that's great. But overall, I was not that impressed by it. It's not great, it's just okay.
Number of words on a typical page
50
Amazon Link
https://www.amazon.com/Welcome-Willems-Guide-New-Arrivals/dp/1484767462
Goodreads Link
https://www.goodreads.com/book/show/31743096-welcome