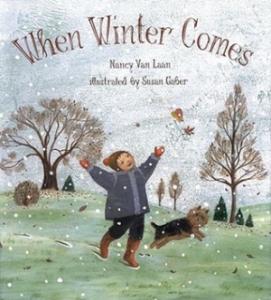 Very repetitive. I certainly couldn't read this to my kid because it would drive me crazy.
Every other page is, "Where, oh where does the X go/When winter comes and the cold winds blow?" And then it says where it goes. It's in rhyme. It's all about the different plants and animals and what they do during winter, and then the little kid goes to sleep at the end.
Pretty boring. Pictures look like oil paintings, which is kind of cool. They're not highly realistic, but they're pretty. So I've got to give it that.
This would certainly confuse my child because I live in southern California. A pretty realistic depiction of what happens to nature in the winter.
Number of words on a typical page
16
Amazon Link
https://www.amazon.com/When-Winter-Comes-Nancy-Laan/dp/0689817789
Goodreads Link
https://www.goodreads.com/book/show/1428365.When_Winter_Comes