All in the Morning Early
November 25, 2016
Subheader:
Ain't no party like a Scottish mill party!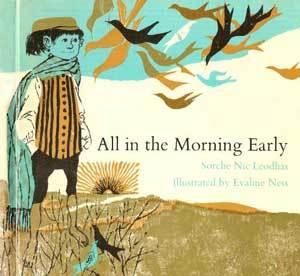 Review:
It's kind of a Scottish nursery rhyme. A little boy is taking some corn to the miller, and meets various people and animals on the way in increasing numbers. He meets one huntsman, two ewes, three gypsies, and so on. And then this massive group of people makes it to the mill and he breaks off from the group. That's it. The end.
There's not a lot to it. It's kind of translated a little bit for Americans, and given some prose to explain what's happening. The illustrations are a blocky, dated style. There's a bright teal, a mustard brown, an olive green, and black. It's a rather old style of doing illustrations. It's not terribly interesting. I wouldn't have sought it out except it won some kind of award.
Number of Words on Typical Page