Caps for Sale
January 8, 2017
Subheader:
What are monkeys doing in Europe, anyway?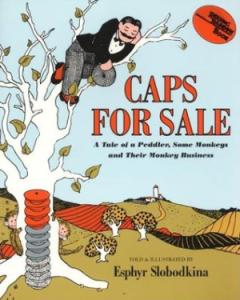 Review:
Huh. Well, that's odd. There's no moral to this. It's just like "The Hatseller and the Monkeys: A West African Folktale", but without a moral. So there's just a guy with a bunch of caps piled on his head, and all the caps except for one get stolen by a bunch of monkeys. He gets angry at them, and shakes his fist, and they shake their fists, and then he gets angry at them and hops up and down, and they hop up and down or whatever, and keep mimicking him, and then he finally gets so angry he takes off his hat and throws it on the ground and walks away. Then the monkeys take off their hats and throw them on the ground too, and he gets all the hats back. The end.
So he just solves the problem through anger? That's weird. It's kind of strange, because there's no real location for this. He's depicted as being in a town with a church, and houses and such, but there's a bunch of monkeys in the tree. The other book is an African folktale, so it's kind of like this person just took the folktale wholesale and transplanted it into a European or American setting, removing the moral in the process. Unless the moral was added by the writer of the other book.
Number of Words on Typical Page