The Day We Saw the Sun Come Up
November 26, 2016
Subheader:
The earth goes around the sun. In lots more words.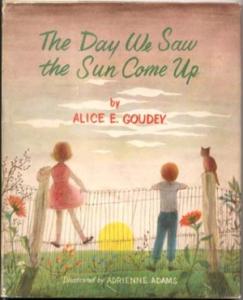 Review:
It's pretty dated. It's a good story. It's got a lot of words. It's kind of a prose poem, I guess? A little boy and a little girl, brother and sister, get up early in the morning and watch the sun rise. They watch the sun throughout the day, how it changes and their shadows, depending on the different time of day. They get ready to go to bed, and their mother explains that the earth is a big round ball and that everything is on the earth, and that it's so big you can't see it. It's kind of cool, because it's fairly scientifically accurate, but it's not done in a very interesting way. It has good facts in it, but it's not very engaging, especially to kids nowadays because it's so wordy.
The pictures are rather dated. It's very dark in color for some reason. I don't know if it's just because the book is old and it faded to darkness or what. So it's just a factual book about the sun and the earth and their relationship, told in the form of a story of two small children experiencing different times of day. There's not much to it. It's definitely not bad, but it won't hold anybody's attention nowadays.
Number of Words on Typical Page