Fish in the Air
November 29, 2016
Subheader:
Is it racist to say that Chinese people fly kites?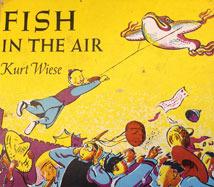 Review:
I'm not really sure whether this book is racist or not. It's kind of hard to tell. I guess I would need to be better informed about the kind of stereotypes that people had about the Chinese in America in 1948. I mean, it's true that there are lantern festivals and such in China. I assume they fly kites there. I've seen other books where they fly kites in China, but those were pretty dated too, so they could also be stereotypical. I don't know. Is it racist to say that Chinese people fly kites? Probably not.
A little boy-- for some reason his name is Fish, I don't know if that's a common thing in China-- asks his dad to buy him a huge kite, and there's a gust of wind and he sails off into the air and falls into the water and gets caught by a fisherman, and then his dad asks to buy the "Fish that he caught" for a silver dollar. Despite the fact that they don't, and probably didn't in 1948, use dollars as money in China. The father speaks in slightly broken English. I don't think anybody else speaks in broken English, although there's not a lot of dialogue. You would think that he would speak in perfect English, because it takes place in China, and they certainly wouldn't be speaking to each other in English. That's kind of a weird convention, but I'm not sure whether it's racist. It's just weird. There's really no moral to this book. It's just kind of a funny story. It's silly. And possibly racist. Who knows. Probably Chinese people would know if it's racist. I'm not Chinese, sorry.
Number of Words on Typical Page