Me and Momma and Big John
May 16, 2017
Subheader:
So when does she get to join the Freemasons?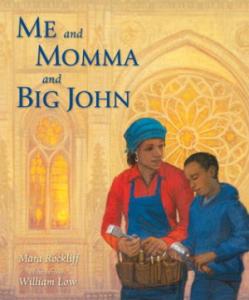 Review:
It's about a boy whose mom is working the Cathedral of Saint John the Divine in New York. It's historical fiction. She's learning to be a stonecutter. It's a really big cathedral and he tries to understand the fact that she works on the same stone for weeks, which really makes me wonder how anything ever gets done in the world if that's how fast stonecutters actually work. So it's a cathedral, and it's pretty inside, and stonecutting is an art.
It's pretty. It's not a bad book, it's just there's no real message to it. It's just kind of matter of fact. It's just telling the story of something that happened to these people.
Number of Words on Typical Page