Take Me Out to the Ball Game
February 9, 2018
Subheader:
Take my wife. Out to the ball game.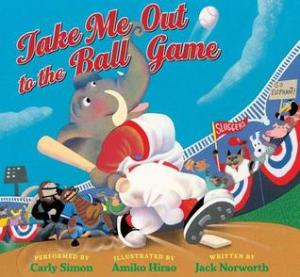 Review:
It's not even by Carly Simon. She's just the one singing it on the included CD. This is weird. It's written by Jack Norworth and illustrated by somebody else. I don't even know why she's involved with this. I don't know why Carly Simon is even attached to this song. She says in the end notes that she's a big fan of the song and that Jackie Robinson's family actually stayed with her family when she was a kid, but I'm not sure why that's relevant. Maybe she's responsible for the book getting made?
The book comes with a CD of "Take Me Out to the Ball Game" and a couple of other ones by Carly Simon. The text is just the lyrics of the song, "Take Me Out to the Ball Game" which apparently includes a character named Katie Casey, who is female, which I find interesting. Usually baseball is thought of as being a guy thing, but the "official" song of the sport involves lyrics that we don't usually sing, and the chorus is actually her speaking. Her boyfriend asks if she wants to go out to a show, but she says, "Take me out to the ball game" because she's such a big baseball fan.
The book itself is nothing special. The illustrations are all anthropomorphic animals. Katie Casey is a cat, her boyfriend is a dog, and there's also crocodiles and rabbits and lions and giraffes and flamingos and stuff like that. It's okay. Not bad. It's a pretty solid "meh." I guess the illustrations are okay, but it's not a children's book, it's a song that was not originally written for children. The only thing that makes this a children's book is that they've taken the lyrics of the song and juxtaposed them with illustrations. They could have done this with the same words and illustrations or photographs aimed at adults and it would have been an adult book. There's no story line to this beyond the one already in the lyrics of the song. I wasn't impressed.
Number of Words on Typical Page