September 27, 2016
Sad book that seems more for parents.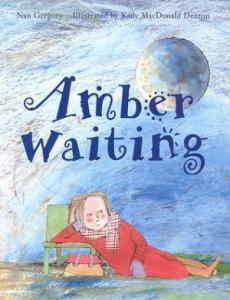 It's kind of sad. There's a little girl at kindergarten. She loves kindergarten, but when school gets out, her dad is an hour late to pick her up. As she's waiting, she fantasizes about being able to fly and taking him to the moon and leaving him there to make him understand what it's like to wait. She wants nobody's parents to be late anymore. When he finally comes to pick her up, she says, "Were you ever on the moon? Waiting for someone, scared and lonely?" And he says, "Oh, I see what you mean." And then he gives her a kiss and a piggyback ride home. And that's where it ends. It's not clear whether he changes his ways or not.
Perhaps he understands, but doesn't give an explanation for why he's late, or show any evidence of planning to be more punctual. That's something that I would want in this if I was going to read it to my kids. I'd really want either them to understand the parent's point of view, or the parent to display that he did understand the child's point of view. I don't know who it's for. It certainly wouldn't make the kids feel any better about waiting.
Number of words on a typical page
30
Amazon Link
https://www.amazon.com/Amber-Waiting-Northern-Lights-Children/dp/0889952582
Goodreads Link
https://www.goodreads.com/book/show/994715.Amber_Waiting