Facts about apes with nice pictures.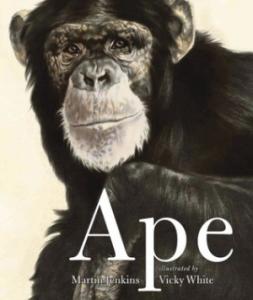 It's a book about four of the five great apes, which are orangutans, bonobos, chimps, and gorillas. It's kind of a summary, with some nice pictures of them. And then the fifth great ape is humans, and, you know, we're bad. But we're not altogether bad, because we're trying to protect them now! We were bad, but we're better now! Okay?
There's no story. It's just a bunch of facts. The pictures are kind of cool, but there's nothing to follow. I don't think it would hold the interest of any child who wasn't really into apes or animals in general.
Number of words on a typical page
40
Amazon Link
https://www.amazon.com/Ape-Martin-Jenkins/dp/0763634719
Goodreads Link
https://www.goodreads.com/book/show/2419228.Ape