The train to snoozeville.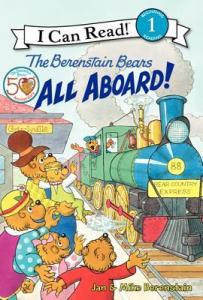 I learned from this book that a conductor and an engineer are not in fact the same person. ("The more you know" music plays.) Really not terribly interesting. Another super boring story that doesn't go anywhere and really doesn't have a point.
"They couldn't believe they were actually driving a train. Their friends would never believe this story!" Their friends would as bored hearing the story as I was reading it. Their friends wouldn't care.
The Bears go on a train trip. They see some stuff. The kids get to drive the train for a few minutes. They get picked up by their Aunt Tilly, and when Sister says she wants to live in a caboose, Aunt Tilly says, "So do I."
The best part: "Brother and Sister looked down the track. Here came the train! 'WOO-HOO!' went the whistle." Apparently it was very excited.
Number of words on a typical page
70
Amazon Link
https://www.amazon.com/Berenstain-Bears-Aboard-Read-Level/dp/0060574186
Goodreads Link
https://www.goodreads.com/book/show/7844797-the-berenstain-bears