All good things must come to an end.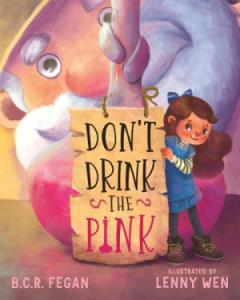 I think this is the first non-self-published book to be given to me to review. Despite its name almost being an innuendo, I was cautiously optimistic about this book. Especially given its synopsis, and its gorgeous illustrations, almost like chalk drawings. I was not disappointed. I was kind of surprised that it went in an unexpected direction, but it did it well.
I don't usually concentrate on the illustrations, but I'll mention that they're almost dreamlike, with soft, smooth edges and colors and expert shading.
It's written in verse. The poetry is decent, and I never found myself annoyed by the style (although the repetition of the Grandfather's speech was irksome). The story follows a girl from her first birthday through her 15th birthday. On the first birthday, her grandfather comes to her with a box of potions of all different colors that he's apparently invented. Every birthday, he brings the same box, asking her to pick a new one: "'Happy birthday, Madeline,' he said with a wink. 'Take a potion, take a brew. Just don't drink the pink.'" The book is brief. I feel like I expected there to be more words. There's exactly one spread dedicated to every birthday and the magical powers the potions imbue her with for a day: breathing fire, turning into a mermaid, growing gigantic, et cetera. Maybe an adult reading this to a child could use it as a jumping off point, asking them which potion they would want, and what they would do if they drank it.
That's only the surface story, though. Throughout the fifteen-year span of the book, Madeline's grandfather grows older and weaker. And on her fifteenth birthday, Madeline muses that "Grandpa didn't come. He'd passed away a month ago." Dang! It wasn't out of the blue, but the book doesn't shy away from it. And it does a marvelous job of dealing with it. On that birthday, he's left a note for her in his lab, along with the pink potion: "Happy Birthday. Never fear." She drinks the potion. "I felt myself get pulled through time, and I was one again! And there! My Grandpa Gilderberry, much to my surprise. He had a box of potions, and a twinkle in his eyes." And it's her first birthday, and she sees him give her the potions for the first time. So the pink potion is to help her remember her grandfather and the times that she had with him.
I have to admit that I was somewhat confused about whether this was her witnessing the past, or actually being sent in some kind of bizarre time loop back to be one again permanently, but I think based on the brief durations of the other potions, it's probably just a way to view the past.
I love the fact that this book deals with death, without it being entirely about death. It's rare to get that kind of honesty in a children's book, and it makes the story about the life that Madeline and her Grandpa shared. This book really could have been much longer, though obviously that wouldn't work for younger children.
Number of words on a typical page
40
Amazon Link
https://www.amazon.com/Dont-Drink-Pink-B-C-R-Fegan/dp/1925810089
Goodreads Link
https://www.goodreads.com/book/show/43533244-don-t-drink-the-pink