Drum Dream Girl: How One Girl's Courage Changed Music
March 27, 2018
Subheader:
When you're a victim of discrimination, banging on the drums all day is a kind of work.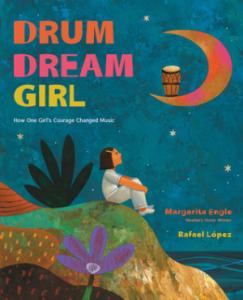 Review:
It's inspired by the true story of a Chinese-African Cuban girl, Millo Castro Zaldarriaga, from 1932. The story is that a girl wants to play the drums, but where she lives, people believe that only boys should play drums. So she dreams about it and listens to the music and imagines herself playing music for a long time, and then eventually she just decides she's gonna play the drums and she plays them. Her big sisters, who are in an all-girl dance band, invite her to join them, but their father says no. She's very sad, but then her father decides that he's going to get a music teacher for her who can "decide if her drums deserved to be heard." The teacher is amazed and she learns a whole lot. Then the teacher says that she's ready and so she plays and then it says, "Everyone who heard her dream-bright music sang and danced and decided girls should always be allowed to play drums and both girls and boys should feel free to dream."
It's really great, not just because it's inspired by a true story, but just because it shows that if you have a dream and you work toward it and have people who support you, you can go far. She doesn't let her father's rejection stop her from trying. She keeps drumming on her own, just not in public, and then her father seems to realize that she's not going to give her dream up. And what he ends up doing is more helpful in the long run, preparing her to perform in public instead of letting her try while only having been self-taught.
It's a good story with a great message, with colorful, gorgeous pictures.
Number of Words on Typical Page