October 7, 2016
Hot days make everyone grouchy.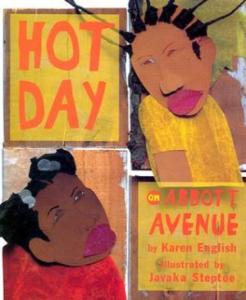 An interesting illustration style, with photographs of mixed-media collage. There are lots of layers, with tissue paper and felt and other textured things. It's a prose poem where the repetition is enough to create parallelism but not too much where it becomes annoying. The diction isn't overly simplistic and the pictures are interesting to look at. The message is good, but the story is rather uncomplicated and not very deep.
Two girls are mad at each other because one of them bought the last ice pop of their favorite flavor from the ice cream man, and heat of the day isn't helping anyone's mood. All the adults are trying to get them to be best friends again, and they just refuse until people down the street start jumping rope and they go jump rope too. They start having fun, and the ice cream man comes, and one of them buys the last ice pop of that flavor and they share it, and they're friends again. The end.
Number of words on a typical page
35
Amazon Link
https://www.amazon.com/Abbott-Avenue-Addams-Honor-Awards/dp/0395985277
Goodreads Link
https://www.goodreads.com/book/show/1164370.Hot_Day_on_Abbott_Avenue