Mr. Brown Can Moo! Can You?: Dr. Seuss's Book of Wonderful Noises!
October 12, 2017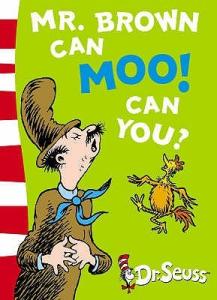 Review:
Fun book. There's no really strong message. A man named Mr. Brown can make a bunch of different noises of things, and the book asks the reader/listener whether they can mimic the noises as well. There's a lot of fun onomatopoeia. While "moo" and "buzz" are common words, it includes noises like a hippopotamus chewing gum ("grum grum grum grum") and other fanciful, playful sounds. The meter isn't quite as obvious in some sections as others. The illustrations are typical Seuss, with bright colors and stylized characters and animals.
There's nothing really to it. It's enjoyable and light. My kids enjoy making funny noises. Silly things are attractive to children. The imaginative, whimsical aspects of this book are great. There's no real message to it, but it might encourage children to use their imagination and be more descriptive of things.
Number of Words on Typical Page