September 27, 2016
Papa Bear fails in the snow.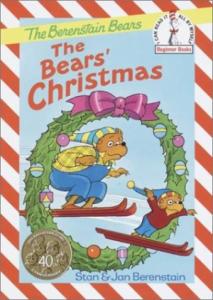 Another inane older Berenstain Bear book where Papa tries to teach Small Bear things and just fails miserably at everything. They're trying to do winter things, because Small Bear got a sled, skis, and skates for Christmas from Santa. So Papa sleds off a cliff, falls through the ice while skating on Small Bear's skates, and then falls down the hill instead of skiing and rolls downhill as a snowball and crashes into the house. These are kind of non-realistic things happening to him, except for falling through the ice. These aren't problems that anybody with half a brain in their head would run into.
The best part: Papa does a figure eight, and then Small Bear says, "Look, Pa! I'm skating!/I'm pretty keen./Look Pa! I'm doing/a Figure Sixteen!"
Number of words on a typical page
20
Amazon Link
https://www.amazon.com/Bears-Christmas-Stan-Berenstain/dp/0394800907
Goodreads Link
https://www.goodreads.com/book/show/1422646.The_Bears_Christmas