September 27, 2016
Papa Bear fails at being entertaining.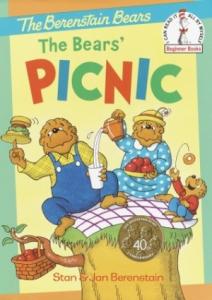 It's inane. Another older book with the older style of illustrations and an updated, misleading cover. Papa is taking Small Bear and Mother Bear out on a picnic. He keeps looking for the perfect spot and failing miserably every time. This is Papa Bear being an idiot again. It's really not that interesting to watch Papa Bear fail repeatedly. At the end they just go home again and eat there.
The best part: When they're at the top of a mountain, the mountain gets struck by lightning and splits in half like a tree.
Number of words on a typical page
15
Amazon Link
https://www.amazon.com/Bears-Picnic-Stan-Berenstain/dp/0394800419
Goodreads Link
https://www.goodreads.com/book/show/900097.The_Bears_Picnic