Papa Bear is a hypocrite.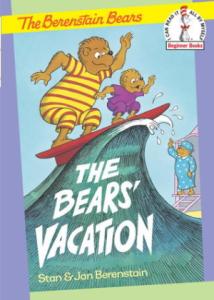 Written in rhyme. It's a really old book from the 1960s when Brother was the only child and he was called Small Bear. In a case of false advertising, the cover has been redrawn more recently in the more modern style. The rhymes are sometimes okay, but sometimes the rhythm is off, like "Then, on the other hand,/we might/end up on those rocks./You see? I was right!"
Basically, Papa Bear is an idiot. This seems more common in the older books. He thinks he knows what to do, but he doesn't and keeps getting hurt. He's trying to teach Small Bear the rules to follow at the beach. In this case, the rules are all correct, but he's not following them himself, and that's where the problem happens. For example, he hangs his towel on a warning sign before looking for warning signs. Or, he says to pay attention and make sure the water is free of obstacles when diving. Small Bear points out a twig, and he says not to worry about it, then it turns out that it was part of a submerged log. There's a "Do as I say, not as I do" thing happening here. It's not bad. It still definitely teaches good rules for the beach.
The best part: "You proved it, Dad./Even a twig/can be bad."
Number of words on a typical page
16
Amazon Link
https://www.amazon.com/Bears-Vacation-Stan-Berenstain/dp/0394800524
Goodreads Link
https://www.goodreads.com/book/show/1129300.The_Bears_Vacation