The Big Question deserves a better answer.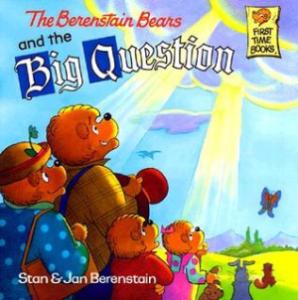 For a book that's supposed to be about what God is, this book is very vague. But I guess that's the kind of answer you get when you ask that question.
Sister Bear is wondering what God is. They say Grace and stuff, but apparently the bears have never been to church, despite the fact that they clearly go in other books. Maybe this is their first experience with church, who knows? So she asks her mom, "What's God?" And Papa Bear overhears and takes her and gives her what is literally described as a "big boring lecture." And Mama Bear comes in and removes Sister and says, "Let's go gardening."
And Mama Bear says, "God made everything. That's all you need to remember. The birds, the flowers, the sunshine. They're all God's work. All part of God's great plan." "Everything?" "Yes!" "Clouds and trees and butterflies?" "Yes!" "Worms and spiders and big yellow slugs?" "Yes!" "Cold germs? Bellyaches? Earthquakes? Fires? Floods? Tornadoes?" "Hmm, look at the time!"
She evades the question and they go to church, because it happens to be time to go to church. The whole family goes to services, and they get pointed out as being new people. Instead of preaching, the preacher has everybody else talk. Sister Bear is bored to tears when nobody is talking. People say, "I'm grateful to God for the land we live in!" Their grandparents say, "I'm grateful to God for my grandcubs!" The mom stands up and says, "I'm glad we came!" And then they leave and Sister asks, "Did God make questions?" And Papa Bear says, "Mostly questions." The end.
Sister Bear has a question and it doesn't get answered. This is like answering the question of "Who's Grandpa Smith?" by saying, "I'm really glad we have nice silverware."
The best part, the depiction of the "big, boring lecture": "BLAH-BLAH-BLAH--- BILLIONS AND BILLIONS OF STARS AND PLANETS--- BLAH-BLAH--- EACH IN ITS OWN APPOINTED TIME AND PLACE--- BLAH-BLAH--- STRETCHED TO INFINITY---"
Number of words on a typical page
47
Amazon Link
https://www.amazon.com/Berenstain-Bears-Big-Question/dp/0679889612
Goodreads Link
https://www.goodreads.com/book/show/58495.The_Berenstain_Bears_and_the_Big_Question