The Berenstain Bears' Baby Easter Bunny
October 7, 2016
Tedious lift-the-flap book.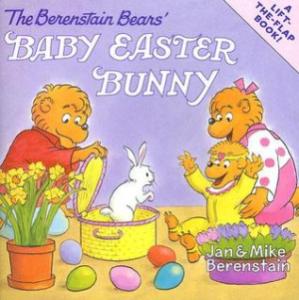 It's a boring book. It's a lift-the-flap book. Some of the flaps are strange, like a rock. When you lift the rock, are you looking behind it? A gate makes sense because you open it, but what are you doing to a haystack? I guess if you move the haystack away, there's a horse and a foal. Are they supposed to be behind the haystack? Are they under the haystack? And there's a cow and a calf either behind or under a tractor. I don't even know. It's just bizarre.
It's not very interesting. It starts out on Easter morning, with the cubs receiving their Easter baskets. There's a bunny in one! And then they go outside with the bunny and look for eggs, and then the bunny finds a bunch of other baby animals, because it's spring, and baby animals are born in the spring. And it's just a whole bunch of baby animals, apparently behind or under things.
It's pretty monotonous. There's not a lot to it. There's not that many words. It's just supposed to be a lift-the-flap book, but I think by the time the kids are old enough to lift the flaps without just tearing them to shreds, they're kind of beyond this. Maybe most kids aren't as destructive as mine was.
The best part: "Then take a look at this brand-new calf. Isn't he a beauty?" says Farmer Ben, gesturing towards a tractor. That's not a calf, it's a tractor, Mr. Ben. Maybe Farmer Ben is going senile in his old age.
Number of words on a typical page
17
Amazon Link
https://www.amazon.com/Berenstain-Bears-Baby-Easter-Bunny/dp/0060574208
Goodreads Link
https://www.goodreads.com/book/show/2261291.The_Berenstain_Bears_Baby_Easter_Bunny