Mixture of accurate information and inaccurate.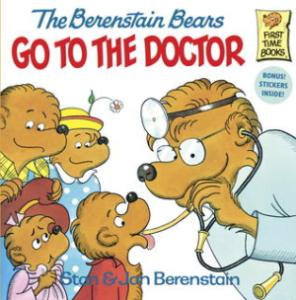 Not bad for a Berenstain Bears book. Papa Bear is a stereotypical male, and he doesn't go to the doctor, because he-- achoo-- never gets sick. The cubs are going in for a checkup. They both have to get shots, because, why not. And it turns out Papa is sick. Ha ha.
The way that the doctor makes the shot seem not as bad to Sister is by calling all of the other cubs in from the waiting room to watch her get a shot, kind of intimidating or embarrassing her into not being scared. I think most children would just be more upset. At least it's good in that it explains, briefly, what a shot is for: it keeps you from getting sick. So that's good. The doctor prescribes Papa some medicine for his cold, which is not a thing that exists. There is no medicine that gets prescribed for colds. They're viruses, not bacteria. But, hey. So not bad, not great.
The best part: "She tested their hearing by whispering very softly." Somehow I don't think that would work as well as a machine.
Number of words on a typical page
53
Amazon Link
https://www.amazon.com/Berenstain-Bears-Doctor-First-Books/dp/0394848357
Goodreads Link
https://www.goodreads.com/book/show/728471.The_Berenstain_Bears_Go_to_the_Doctor