The story is as disappointing as the treasure itself.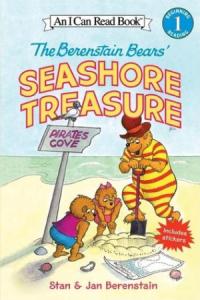 The bears go to the seashore, stay in a house, and Papa Bear finds a treasure map in the house. He goes looking for treasure while Brother and Sister have fun. He looks like he is certainly not having a lot of fun looking for treasure. They find a bunch of shells. They talk about the shells. And there's a bunch of laughing gulls that laugh at them, 'Ha! Ha! Ha!" And then they go swimming and they take the shells back. The end.
Pretty boring. Not much of a story, and not much to say about it.
They found the "treasure of the sea."
The best part: "'What is booty, Papa?' Asked Sister."
Number of words on a typical page
24
Amazon Link
https://www.amazon.com/Berenstain-Bears-Seashore-Treasure-Level/dp/006058341X
Goodreads Link
https://www.goodreads.com/book/show/549460.The_Berenstain_Bears_Seashore_Treasure